High End Ecodomes with roadcases
$1595 each
Pay on line
WHOLEHOG 2s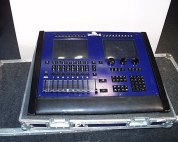 Wholehog 2 - 3 years old with roadcase
$19,995 - these are no longer made! Grab this unit now - while you can!
Mac 600s -Refurbished units in very good condition . These come with a 6 month warranty and are in good Condition! Plus cases. Used MAC 600's $2,695.00ea
Studio Spot 250s -
Approx 3 yrs old - these are lease returns from Disney Hotel property - good shape - 3 mo warranty - 4 units left! $2495 each


MQ 60KVW Diesel Generator with Crystal Sync, trailer, Additional fuel tank, Cover, cam tails, very low hours (1400) hardly used - $16,995
| | | |
| --- | --- | --- |
| | Click Below for a Category | |
News, scandal, chat and more....
Palettes of 2.5 gallon fog fluid . This is the good stuff! Not AMDJ or Antari etc- stock up now!
DF50 case - custom ABS roadcase for DF50s - we have a bunch of these built and have some left over - $249 each - brand new.
Inflatable video screen - huge 15x20 screen area, over 26 ft high by 24 ft wide overall. Goes up in minutes. For more info click the pic. Great for music/ambient video projection, movies in the park etc - $6995 Custom units available -
www.blimpsign.com
All sales must be pre-paid by cashiers check - an account processing fee may be added for Visa/MC. Freight and insurance will be added to any items shipped. Limited to stock on hand. All items sold as is - some items carry remaining manufacturers warranty. Note all prices are for purchase via the web. In store price may be greater. Prices may vary daily as gear is sold and replaced.
Custom Gobos in 48hrs - Call Grace or click here!
Free second copy of any custom gobo with Lightbroker Order!
Lightbroker Exclusive
The Emulator Lamp - discontinued from High End, but available here! $379 each
TECHNOBEAMS HURRY, HURRY, HURRY! WE HAVE JUST TAKEN DELIVERY OF -STANDARD TECHNOBEAMS. IRIS READY! $1795.00 EA.
DAS BOOT!
New Mac 250s -never used! Full warranty - $1995
Lamp Specials - MSR 575/2 - $139 ea (2pc Min) click for more!
Schwarzanegger has one - its Austrian too! Nato uses them and we have 2 for sale. Its a rich mans Thing or a poor mans Hummer. They are ex-Swiss military and in great shape. Yours for the price of a whole hog! $20,000 ! Actually now get the 4 wheel version for $13,500! Check out the web site - click the pic! This one is mine!